Article Series
Our craft is our heritage – Basketry
How Mariana Buruiană, a basketry designer from Chișinău (MD) approaches her work.

Interview by Gerlinde Schuller
---
November 2022 . 5 min.
Mariana Buruiană, belongs to a new generation of basketry designers who experiment with new materials and techniques. She weaves with paper, which is specially processed and can be tinted in a wide range of colours at the customer's request. This not only creates new design possibilities, her products are also resource-saving and environmentally friendly.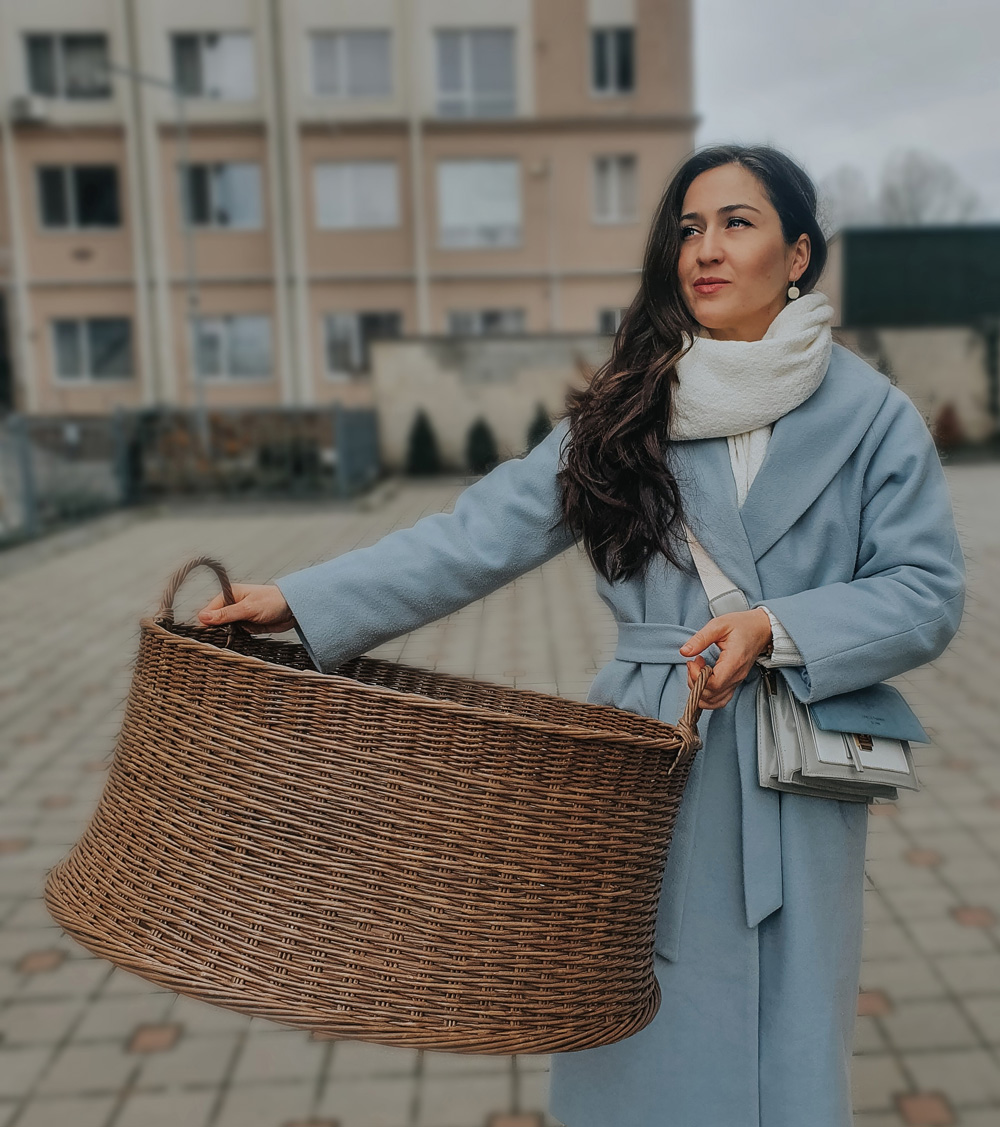 Gerlinde Schuller: How did you learn to weave baskets?
Mariana Buruiană: I taught myself how to do it from tutorials on the Internet. First, I learned about the basics of the craft, the necessary materials, the tools and the technical nuances. Then I followed the work of craftsmen from Czech Republic, Russia and Ukraine. I was interested in how they add uniqueness to their work and how they process details. When I encountered difficulties with my work, I would write messages to them and was always amazed how kindly they helped me.
Where did your interest in these countries come from?
For practical reasons. I also speak Czech, Russian and Ukrainian and I chose these cultures where I understood best what they were explaining.
How far back does your passion for basket weaving go?
My passion started in 2018. I was looking for braided baskets to organize items at home and stumbled upon a post by a Czech artisan. I was totally surprised when I read that his baskets were made from paper loops. This detail made me enormously curious and I thought: I really have to try this myself. I wanted to create something according to my own taste, own proportions and own refinements. Since then I have not stopped training and practicing this craft.
Where does your family come from?
My roots lie in the North of the Republic of Moldova. My relatives were farmers. One detail, however, surprised me recently. When I started with the craft my mother was amazed by my new passion and activities and asked why I was doing it. I replied: Well, I love it and it gives me peace of mind. Thereafter she told me about her grandmother who used to grow grapes on her farm in the 1970s.

My great-grandmother was also weaving baskets for gathering the grapes. The family was growing osiers for the production of the baskets. Apparently, the garden was full of such baskets, a standard model, practical for use in the fields. Unfortunately, this craft has not been taken up by any of my descendants. I wish I could have learned something from my great-grandmother, but I didn't get to know her.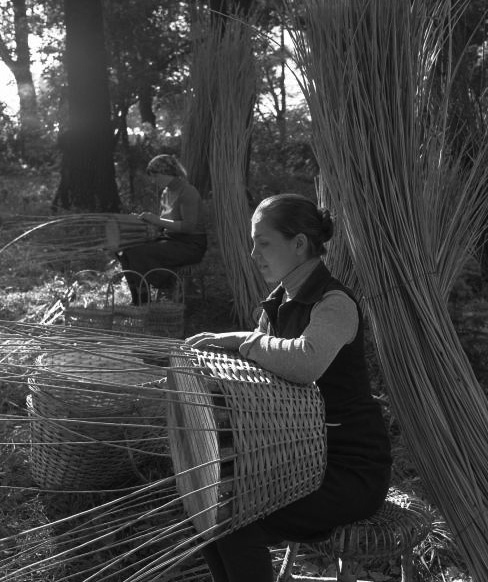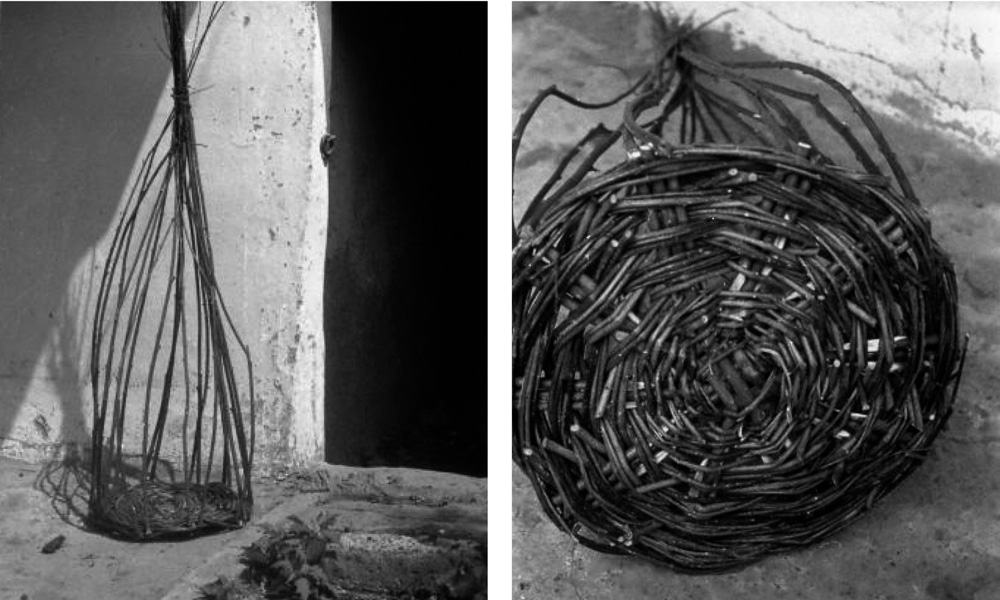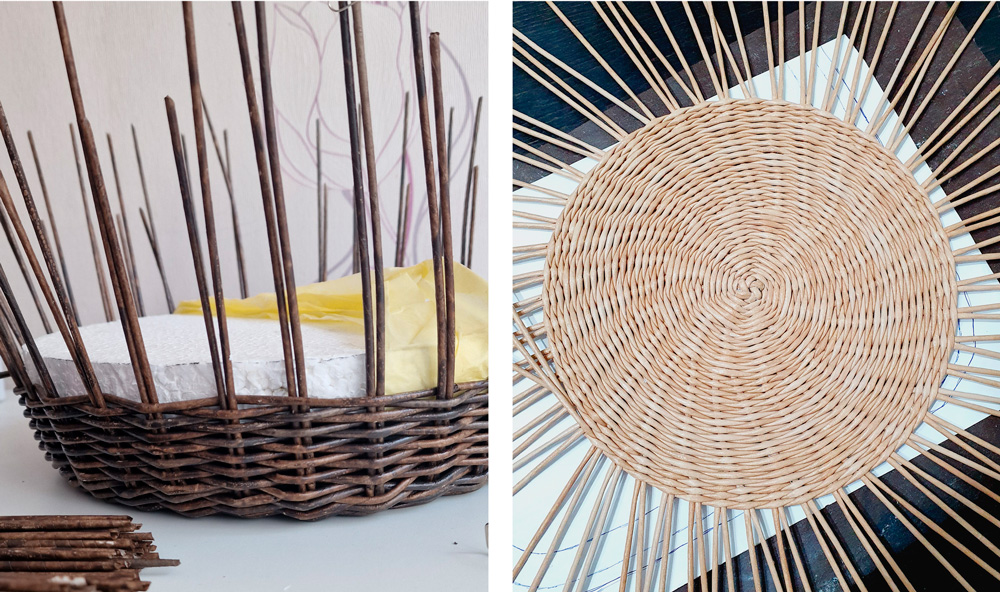 What is the difference between the baskets your great-grandmother wove and yours?
The difference between what I create and what my ancestors created lies in the material, the purpose and the nuances. My great-grandmother made the baskets from osiers, and I make them from specially processed paper. She left the wood raw and I offer them in any color the customer wants. My family used the baskets outside in the garden and on the fields. I produce indoor baskets, which are used for storage or by children.
Where do you get the inspiration for your designs?
My inspiration comes from the woven creations made of various materials – rope, dried leaves, metal wire and wood. I find inspiration during my travels in different countries and still from my mentors from the start, the modern craftsmen from Czech Republic, Ukraine and Russia. My final designs are a combination of the popular Moldavian model from the past with modern details that my clients ask for.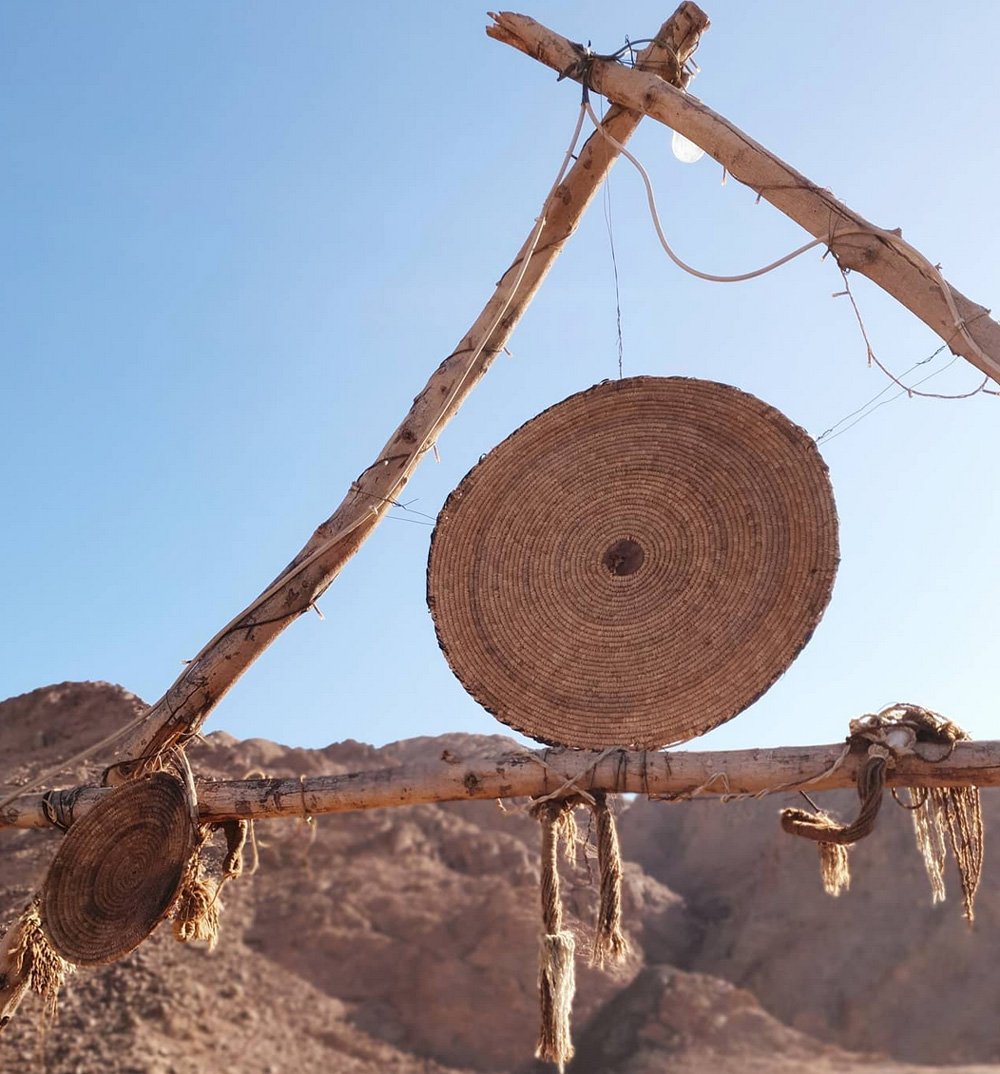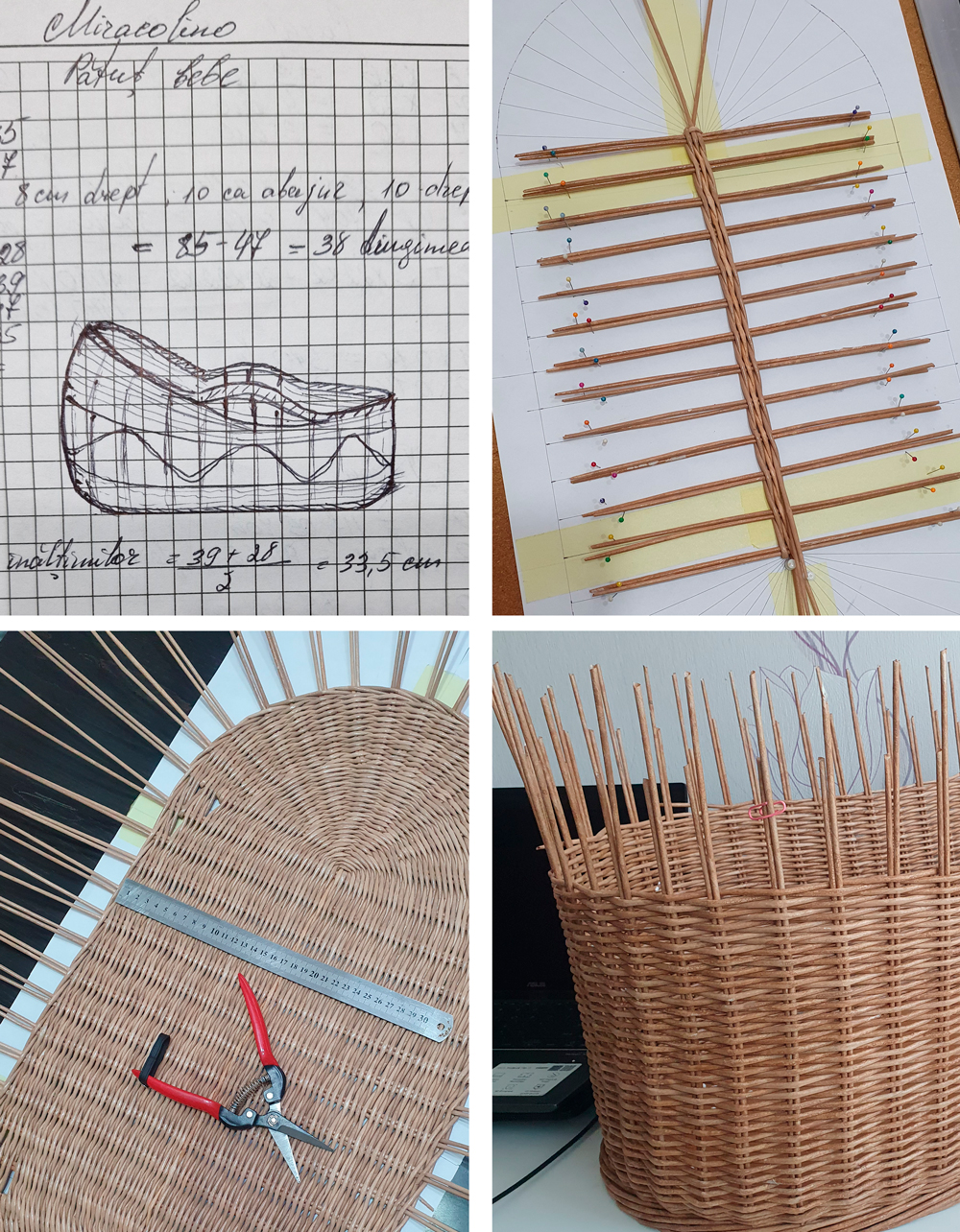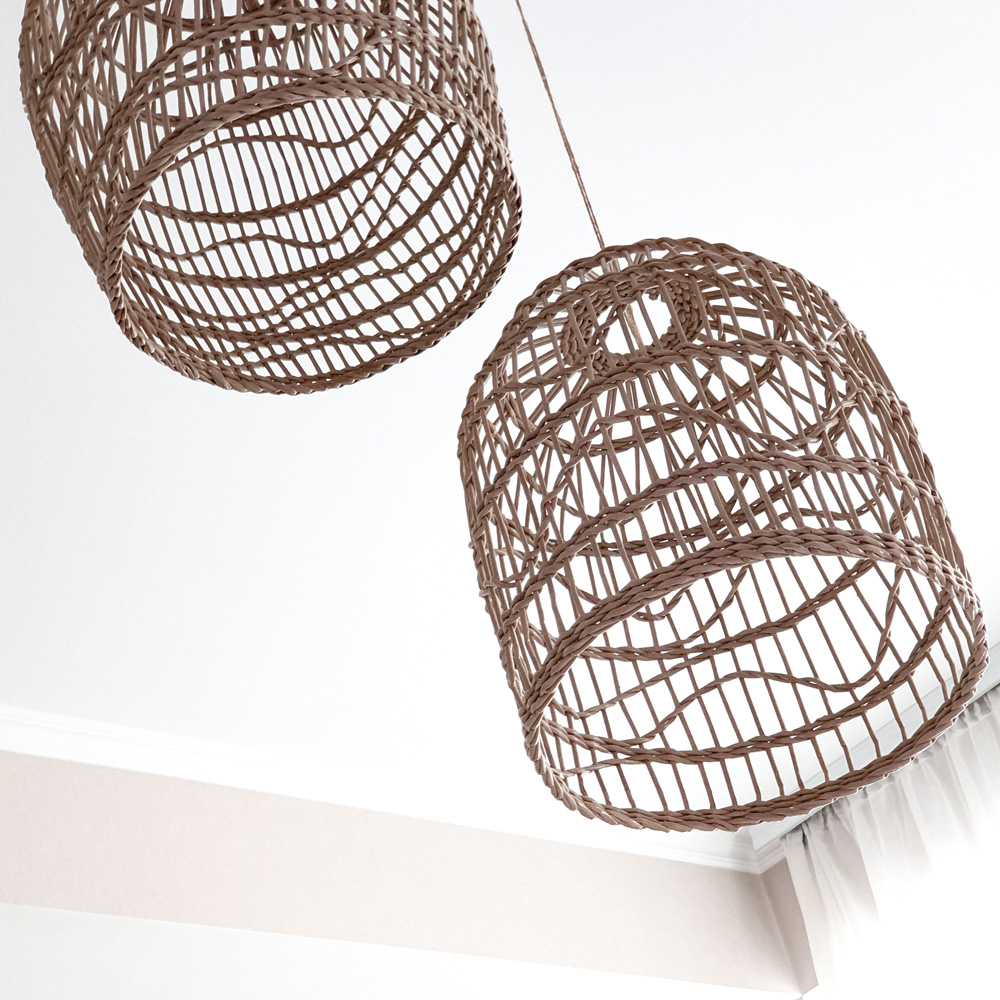 What does the working process of one of your new designs look like?
The new models arise from unusual customer demands, for example for lamp shades or a baby basket. I start by sketching out on paper the accurate size and shape. The exact details and decorations need to harmonize with the client's space. Then I mark out new components, for example a new weaving pattern. I modify the shape in such a way as not to go outside the required parameters. Finally, I like to add new details of decoration so that it does not repeat with any previous work. For that I create models from penoplast, lego and wood. Only then I start to weave.
What kind of materials do you use?
My baskets have to be child and pet friendly because they are used indoors. Furthermore, they must use environmentally friendly and natural materials. I start with very thin newsprint paper, which I twist into twigs. I paint them with wood stains or water-based acrylic colors, then treat them with water-based impregnation to give them elasticity during the work. After finishing a basket, I prime it with undercoat and after drying with the same water-based wood varnish. The seam between the joints are glued with wood glue.
How long does it take to make a medium sized basket?
A medium-sized basket is created in 5-7 days. One day to make the paper loops, the 2nd day to process and dry them. On the third and fourth day I weave the basket. Day 5 is for priming, and drying, and the last day for the protective lacquer coating.
Do you think it is important that this craft does not die out?
In a world where everything is created by automation and in large quantities, we need this kind of art – handmade, personalized work. This is how we maintain our identity and personality. The craft of basket weaving links us to our ancestors. It reminds us of the origins of our culture. I believe it is that accent in the interior that immerses you in memories of home and comfort. Another very important advantage is the ecological one. I believe it is important to care for the environment and retain a connection with nature.
Is it possible to have a steady income with the craft of basket weaving?
The orders I have are scheduled for months in advance, until March 2023. They don't bring a very big profit because I work alone, so now I teach a person to help me with the production. In the future I would also like to offer an online course in basket weaving, which people are asking for a lot.
Will you teach basket weaving to your children?
I would love to teach my children the craft and to be designers. It's what I do best, so I could pass on my knowledge to them. But while they get older, I first want to take care of requests from my followers on Instagram to teach them basket weaving and to run masterclasses for beginners. Also, my aunt has asked me to teach her this craft, as she wants to make such baskets in Italy.
I get many technical questions and it gives me great pleasure to see that the interest in this craft is growing. The days when I thought basketry was slowly dying are gone. Quite the reverse, it's taking off in a modernized, tasteful way. People are more and more attracted to this craft. It's art in their eyes.
Are there other activities that you find important to pass on in your family?
Children watch what adults do. If we do something that brings us a high level of pleasure and satisfaction, they want to learn to do the same. If my two children, watch me weaving and sitting at my desk for hours, focused, sometimes motionless, then I show them afterwards that a perfect combination to unwind from work, is sports. Volleyball is a big hobby of mine. I strive to share everything I enjoy with my children. It gives me joy seeing how they inherit not only a love of art but also a love of sport. If there's one thing I've realized the last years, it's that the things we are passionate about are passed on genetically from generation to generation.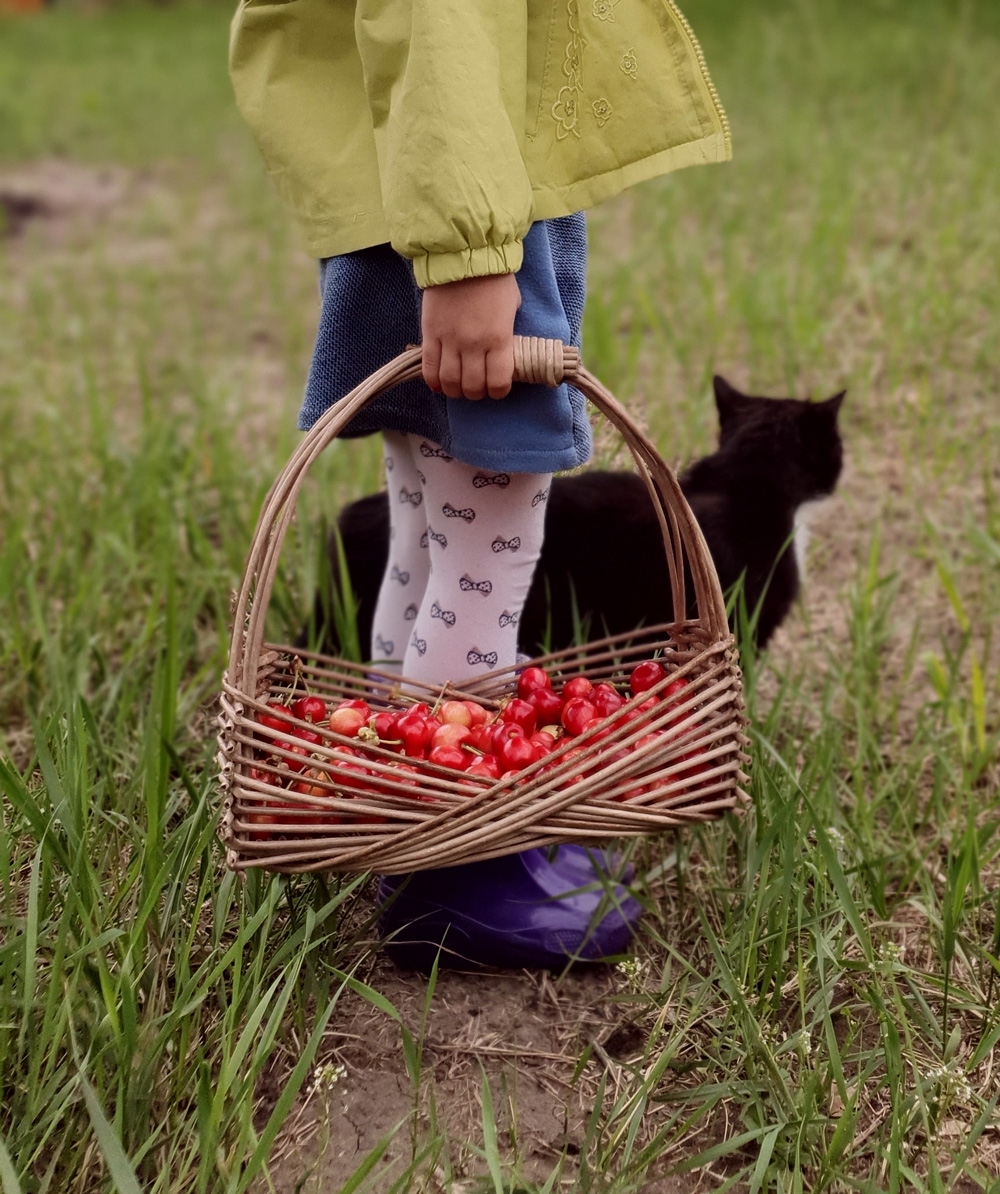 Take a look at the work of Mariana Buruiană:
Instagram
Facebook

Related articles:
Our craft is our heritage – Basketry

---

Follow my visual research on Instagram.
Share: