An interview about my project
Our craft is our heritage
---
September 2023 . 9 min.
Nina May from the Allgemeine Deutsche Zeitung für Rumänien (ADZ) talks to Gerlinde Schuller about her latest long-term project.
Gerlinde Schuller is a data journalist and information designer based in Amsterdam (NL). The Transylvanian Saxon originally comes from Hetzeldorf/Ațel (RO), from where she emigrated to West Germany with her family in the 1980s at the age of eleven. After her studies, she moved to the Netherlands for professional reasons, where she has lived and worked for 24 years.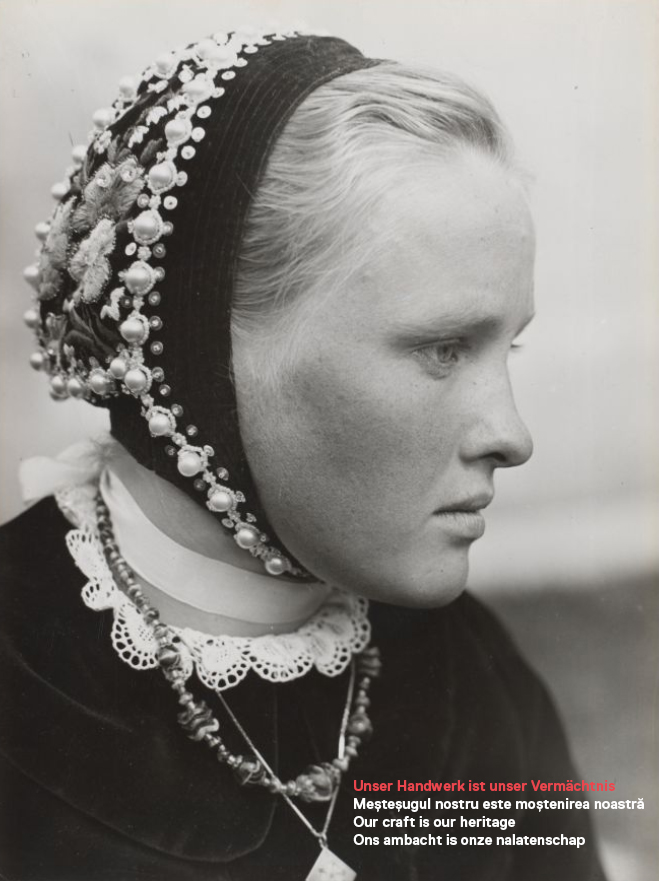 Mrs Schuller, what do you engage in as a data journalist and information designer? How can one imagine your work?
Both disciplines have in common that they focus on the communication of complex information, collections and stories.
Many of my projects also involve tangible and intangible cultural heritage. For example, I did a comprehensive publication on the City Archives in Amsterdam. I was interested in the complexity of the archive – it is, after all, the largest city archive in the world.

I wanted to visually document the processes of this huge apparatus, so I proposed a book concept to the archive and was commissioned to realise it. Since I am also an information designer, I designed the bilingual publication myself. I like to combine long-term journalistic research with curatorial work and my own design.
How is it that after so many years abroad, Romania is now the focus of your new project?
I was born in Romania and spent the first years of my childhood in the community of the Transylvanian Saxons in Hetzeldorf/Aţel and the surrounding area. For two years I have been working on my long-term project Archiving Family Memories and Dreams, researching how the coexistence of the majority population with the up to 18 ethnic minorities in Romania worked in the past and how it works today. These historical and territorial events in Romania and in Transylvania in particular are unique in Europe. I publish articles about it on my project website and in various media.
Within this long-term project, I am currently working on the exhibition project Our craft is our heritage. Starting with the crafts of the Transylvanian Saxons, I am investigating the cultural connections between the Netherlands, Germany and Transylvania.
The community now known as the Transylvanian Saxons settled in waves in Transylvania from the 12th century onwards. These settlers were recruited from the Meuse Valley, a region that today belongs to the Netherlands, Belgium, Germany, Luxembourg and France. The cultural heritage of the Transylvanian Saxons is thus based on a cultural mix. These different influences can still be identified today in the traditional clothing, customs, house construction, household objects and language.

In addition, the cultural heritage of the Transylvanian Saxons also changed as a result of living together with other ethnic communities in Transylvania for more than 800 years. The exodus of this community back to the West in the 1990s also left its mark on the material and immaterial cultural heritage.
In my project, I focus on this historical arc between the Netherlands, Germany and Romania that was caused by migration. Using crafts such as weaving, embroidery, ceramics, woodworking, wickerwork and jewellery, but also house building, I can tell this complex story in a visually comprehensible way. I also want to show how the Transylvanian Saxons have embedded their identity in their crafts and that this identity is a mixture of centuries-old traditions, migration experiences and assimilation.
Do you have a personal relationship to these crafts?
I grew up in Hetzeldorf, a small village near Mediaș. Already as a little girl I started to learn embroidery from my grandmother. Even before you went to school, as a child in the village you were introduced to gardening, cooking, weaving, sewing, embroidery, knitting, crocheting or woodcraft. In the 70s and 80s, all this was still practised in the village in Romania. At school, handicraft lessons were part of the curriculum.
Furthermore, I had many craftsmen and farmers in the family. My father was a blacksmith and locksmith, uncles of mine were carpenters, painters and masons. The women in the family cooked, sewed and embroidered traditional costumes themselves, wove towels and tablecloths. Handicrafts were embedded in everyday life. And that the craftsmen were also masters of recycling and sustainability was a matter of course. I learned that as a child before I could read and write.
What are you concerned with when you depict craftsmanship?
Besides sustainability, I find the interdisciplinarity between crafts, art and design interesting today. In the past, craft products were utilitarian and ubiquitous – today they are mostly exclusive, often decorative objects that are correspondingly expensive. I also know artisans who define themselves more as artists because they produce their products in limited editions and present them in exhibitions. On the other hand, there are many artists and designers who take traditional crafts as a source of inspiration and make them the subject of their art. And then there is the aspect of the 'last' craftsmen who have no successors and whose craft is threatened with extinction.
Could this new artistic approach be a salvation for traditional crafts in Romania, so that they don't get lost in the competition with modern cheap products?
It can help to save certain crafts from extinction and thus develop original works. But it is no longer possible for whole villages and regions to live from a particular craft, as was the case 100 years ago. Also because knowledge is no longer passed on from generation to generation within the family as a matter of course.
The most important thing that I have already grasped on the basis of my research is that you have to get the young generation excited about crafts. They should be taught that crafts are part of their cultural heritage and thus of their identity. So it is also about conveying history. It helps to know the historical context in order to develop a craft. There is already so much knowledge about techniques and materials, you don't have to reinvent everything. It also helps to cooperate with other craftsmen in an interdisciplinary way to initiate something new together.

I also think it's important to practise cultural openness. As long as someone is aware of the historical roots of traditional craft techniques and design and works with them, he must be allowed to develop the craft further. I am glad when I see that traditional crafts of the Transylvanian Saxons are now also practised and further developed by other ethnic communities.
Are there examples of such further developments of traditional crafts?
During my three-week research trip in Transylvania, I visited the ceramics centre Ceramica de Nocrich in Leschkirch/Nocrich.
There in the Harbach Valley, the Transylvanian Saxons practised a form of pottery that had been lost for 100 years. The Romanian Scout Association has built up a pottery studio here with the financial help of Hans-Christian Habermann, a Transylvanian Saxon who left Romania as early as 1948. The scouts, who are supported by international volunteers, have studied the traditional production and patterns of the past and use them again in their ceramics.
But they also develop their own products and motifs and give workshops to the children in the village. In this way, the Romanian and Roma children learn about the history of their village and Transylvanian-Saxon traditions, but they can also build on this to develop something of their own.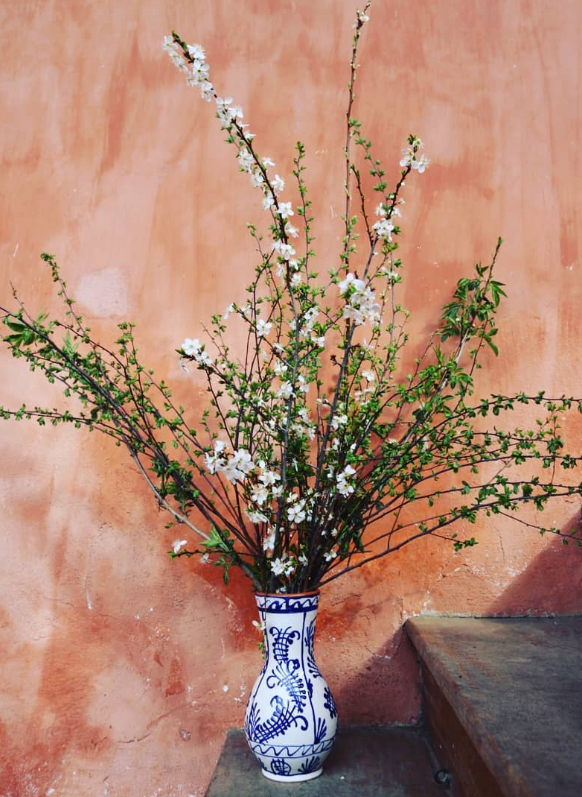 Another example is the Moldovan basket weaver Mariana Buruiană, whom I interviewed. She had a basketry tradition in her family that she knew nothing about until she started practising the craft herself. Her family used to weave with willow, but she works with a special paper. Weaving with paper is a new trend, however it allows you to work with traditional weaving techniques and patterns.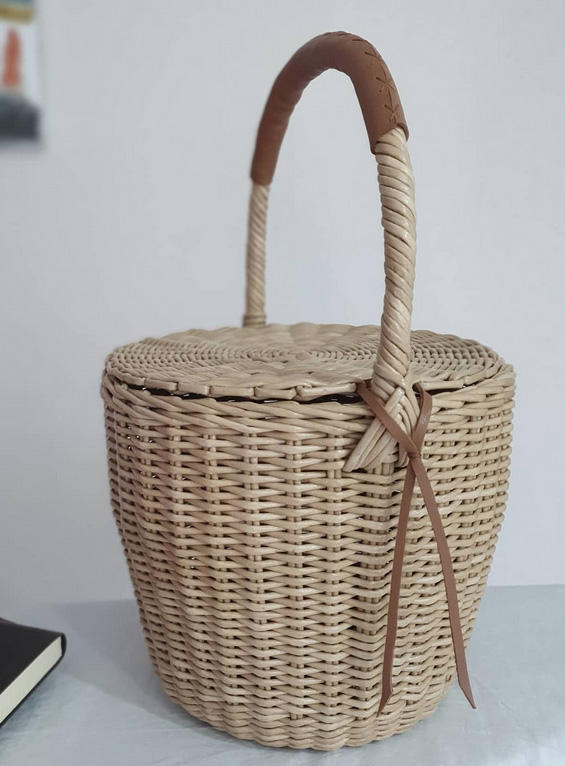 How do you research for such a huge project?
I am a data journalist, which means that you first collect data in order to approach complex topics from different perspectives. I started doing that five years ago. I researched the history of the Transylvanian Saxons, spent a week at the Transylvanian Institute in Gundelsheim in Germany, which has an archive with a library. I requested statistics on the minorities in Romania and Europe from authorities and created my own collection of images from archives all over the world. For the exhibition project, I held initial talks in the spring with artisans in the Netherlands, Romania, Moldova, Germany and Belgium. I spoke with curators and conservators and researched museum collections.
In August I went on a three-week trip through Transylvania and interviewed various people, including tile painter Michael Henning, designers and curators Marlene and Alex Herberth (KraftMade), restorer Ștefan Vaida, art historian Jan de Maere, artist Lilian Theil and coppersmith Emil Calderar.
Our craft is our heritage is a complex project. It is about a time span of over 800 years, about migration movements across Europe and about a network that I would like to spin across three countries – the Netherlands, Romania and Germany. But it is precisely this complexity that makes it particularly interesting for me.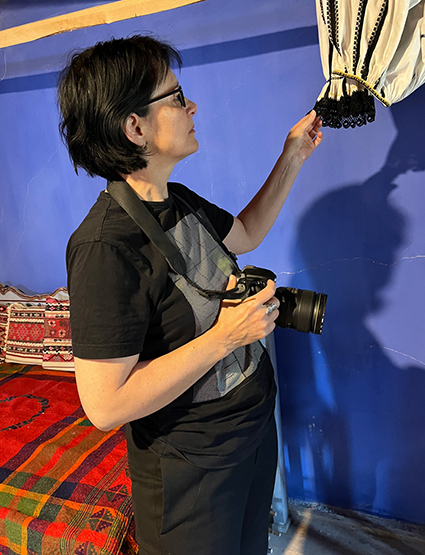 How can you imagine the end product of such a project?
For the project Our craft is our heritage, the end result could be a travelling exhibition to be shown in three countries and four languages. In the meantime, I have contacted museums for a possible collaboration.

But I am also publishing my research in the media, on my website and on social media. In terms of content, I am particularly interested in the cultural influences between the Netherlands, Germany and Transylvania.
However, I am still in the middle of my research and depend on tips. It would be great if your readers could send me information if, for example, they know of a 'last' craftsman practising a Saxon craft or artists or designers who picked up a Saxon craft as a source of inspiration.
What is the ultimate aim of the exhibition?
The project should appeal to as many people as possible in a simple, visual language. It's important to me to tell the story of the Transylvanian Saxons because it's a multicultural, European migration story that has so many aspects in it from which we can learn something today. It can also be used as a basis for discussion about today's planned and unplanned migration movements to and within Europe. Furthermore, many current issues are addressed: How do we deal with the cultural heritage of ethnic minorities? How can we inspire a young generation for cultural heritage, history and practically, for handicrafts? How can durable products be made and crafts revived?
I also believe that the network between cultural workers, artists and designers from the different countries can feed each other. In the Netherlands, there is a lot of experimentation with new materials and technologies such as 3D printing, artificial intelligence. In Romania, on the other hand, there is a much greater affinity with nature and knowledge about our ecosystem. I think it would be great if these different people from different disciplines could meet, exchange, inspire and learn from each other through an exhibition project.
Is there a Romanian project that could serve as a model for other countries?
There is the initiative Ambulance for Monuments by Eugen and Ștefan Vaida, architect and restorer, from Alzen. With the help of volunteers and restorers, they carry out emergency repairs on historical monuments. Many of them are Transylvanian Saxon buildings or fortified churches. I spoke with Ștefan Vaida in Transylvania about their current projects. He also showed me his extensive collection of historical objects.
Among them are hundreds of different old roof tiles. He collects them to have models in case they need to be reproduced for monuments.
I think that the Ambulance for Monuments is a forward-looking project, also because it relies on self-initiative. This approach could also be adopted in other countries where monuments are decaying because they are not being maintained.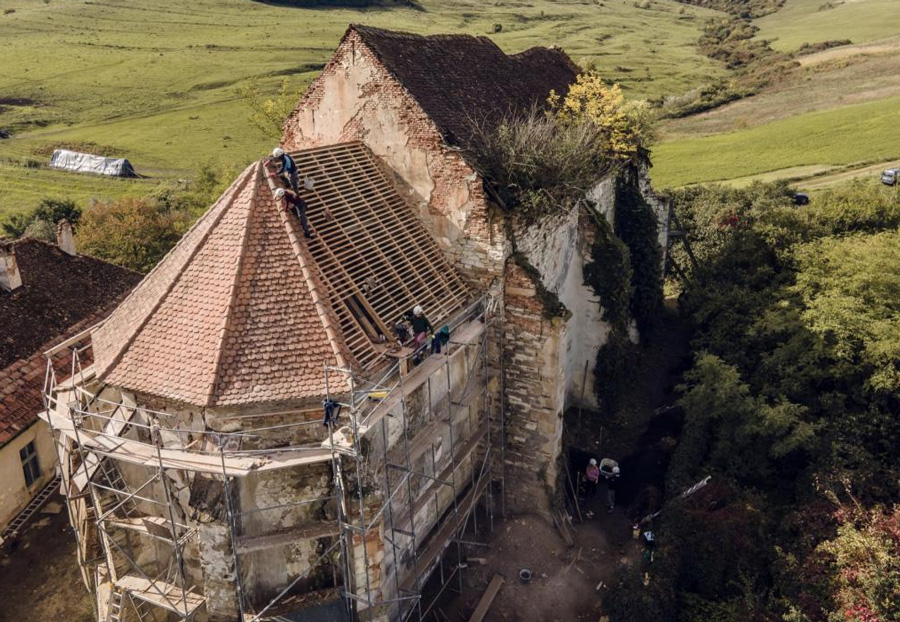 Do you think there is an awareness in Romania of the value of the local craft tradition?
Many cultural workers, especially the younger generation, have reacted very positively to my project initiative. In addition, many Transylvanian Saxons have already contacted me and sent me tips and material.
I have the feeling that a change in thinking is underway in Romania. For young people, the rich cultural heritage of the ethnic minorities is also part of Romania's cultural heritage. In my opinion, a cultural shift is the only way to preserve the many cultural assets of the Transylvanian Saxons there.
Romanian youths sitting in front of the Transylvanian Saxon fortified church in a village in the evening told me that they had never been on the other side of the wall. Maybe 'open house days' should be organised to show them the fortified church and make them understand the history behind it – which is also the history of their village.
I am sure that most would accept the invitation. To preserve something, you have to identify with it somehow.
---
Follow my visual research on Instagram.
Share: